APPLICATIONS. EXTERNAL WALLS.
The external thermal insulation composite system (ETICS) is the optimal solution for the energy efficient and sustainable thermal insulation of exterior walls and/or cladding – in new construction as well as renovation.
ETICS systems involve a multi-layer construction which is applied to the external façade. The individual components are designed to work together: fastening to the supporting wall, heat insulation, the reinforcement layer and the external plaster. The fundamental task of ETICS is the aforementioned heat insulation function. It prevents heat from escaping from a building through the walls. This reduces energy costs, the consumption of fossil fuels and the CO2 emissions.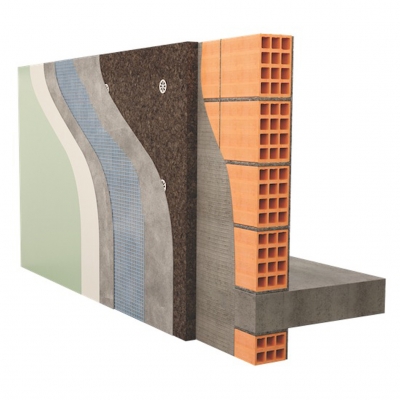 Excellent thermo-acoustic system performance
Excellent mechanical strength
Excellent system inertia
Dimensional stability of the material
High durability without loss of features
Healthier natural product
Comfort with healthy insulation
Excellent breathability capacity
Allows energy savings
Long term effectiveness
Density: 110 to 120 Kg/m3
Thermal conductivity: λ = 0,037 to 0,040 W/m°C
Bending Resistance: ≥ 1,8×106 kg/m2
Compression resistance: 10%: ≥ 100 KPa
Perpendicular Face Resistance: declared TR50 (test results 60 KPa)
Optimal behaviour in a large temperature range: -180°C to 120°C
System Fire Resistance: Euroclass B
Moisture factor resistance: MU 20
Fire Resistance: Euroclass E
Does not absorb water by capillary action
Excellent soundproofing
100% Natural and Additive-Free Industrial Process
Durability of 50 to 60 Years without loss of characteristics
Totally Recyclable
Sink CO2 (Carbon Negative)
Low embodied energy
No emission of harmful compounds for indoor air quality