The EcoSorb products are absorbents designed to deal with any kind of hydrocarbons, oils, solvents and organic compounds spills.
100% Natural, Sustainable and renewable – Special cork granules
Production process: STRICTLY 100% NATURAL
NO health risks – No additives, No toxic
Instantly absorbs oils/hydrocarbons/chemical spills
Super absorption capacity
Hydrophobic (Does not absorb water)
Cost effective (Requires less product and only absorbs the contaminant)
Super lightweight – very easy to handle and use, therefore the operators' efficiency is increased and the risks of accidents highly decrease
Non leaching – (The contaminant stays locked in the material)
Non abrasive
Non-reactive
Controlled granulometry (avoid dust concentration – potentially explosive)
Reduces waste (Reuse cork granules over and over again)
Ideal for land or water spills (Will not sink! Remains floating on the surface for long periods of time, if necessary)
Unlimited shelf life
Provides safe and non-hazardous work place
100% Portugal made
Cork Absorption Mechanism
The cork cells suck the oil by capillarity and retain it efficiently.
The special cork used in the EcoSorb products is pre-selected and heat treated (NO ADDITIVES) in order to have the best performance to sorb hydrocarbons, oils and organic compounds. In these conditions cork has a strong affinity with hydrocarbons and the sorbent effect is instantaneous. The cork cells suck the oil by capillarity and retain it efficiently.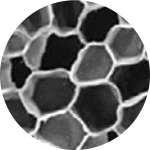 Cork cells observed by electronic microscopy
Cork cells after sorbing oil observed by electronic microscopy
Act quickly and effectively. Regardless of the type of oil that has polluted both porous and rough surfaces, the cork granules provide a complete and thorough cleaning of the surface. The lightweight of the cork granules not only offers benefits for the workplace and workers, but also keeps the disposal costs low.
Super and fast absorption, high retention capacity (non-leaching), repels water and floats on water even after saturation. Strong mesh outer sleeve encases a poly sock skin filled with highly absorbent special cork. Filler won't shed and booms will not sink when saturated with oil. Sturdy hardware with polyester multifilament yarn rope to ensure durability and easy retrieval. Booms can be linked together. They clip together with carbon steel connector hardware.
Designed for preventing, containing and cleaning oils / hydrocarbons / chemicals with no water absorption; Easy to transport, handle and allocate; Customized Kits: We can build the custom kit you need because we build our spill cleanup kits in our own factory. You can request different numbers of cork granular absorbent bags, socks, pads or pillows then what is in our standard items. We can even put your company logo on it. We will be happy to fulfil your needs.
Oil absorbent, dimpled, bonded oil absorbent pads and rolls are appropriate for use in traffic areas, industrial plants, machine and maintenance shops. Repels water based fluids and absorbs oil based fluids. Suitable for industrial and environmental applications for quick absorption of oil. Bonded, high performance universal absorbent pads and rolls. Great for oil and water based liquids. These high performance absorbent pads are dimpled to soak up more liquids in less time. Bonded for strength and high absorbency.